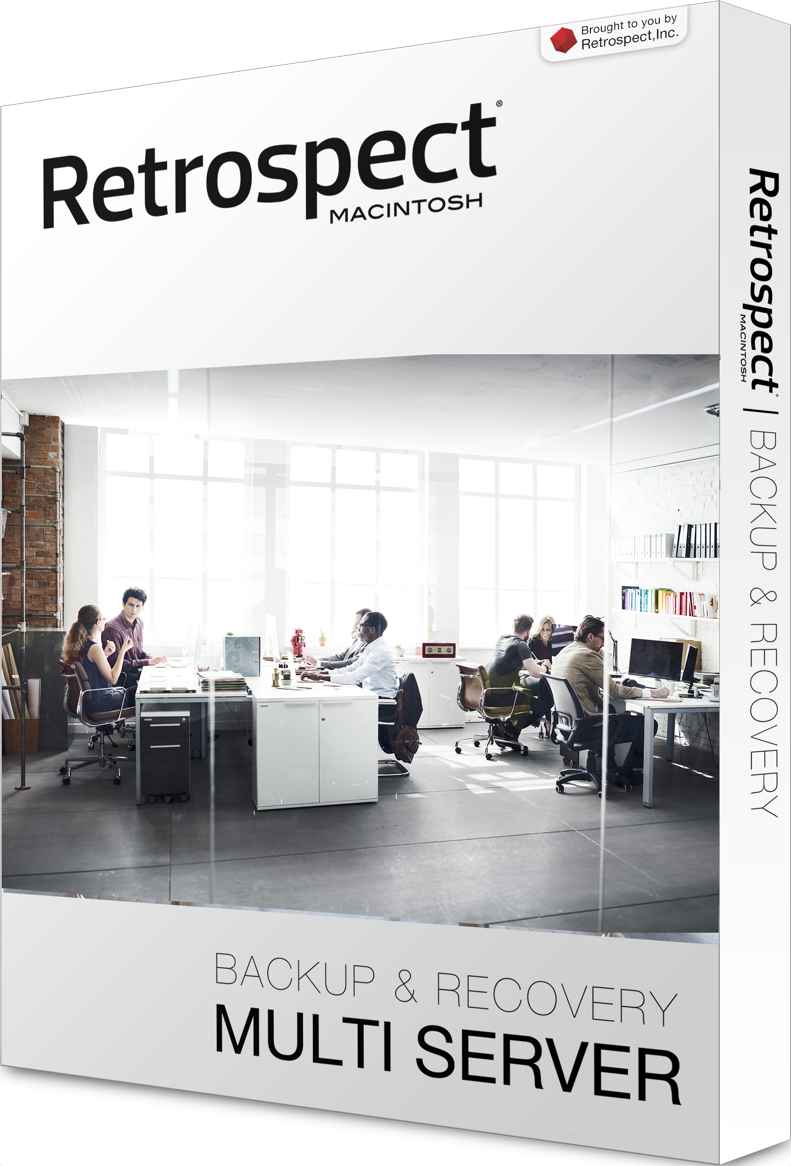 Retrospect
Retrospect for Mac
Retrospect Backup & Recovery software for Mac provides graphic designers, medical offices, law firms, banks, auto repair shops, restaurants, departments in large corporations, universities, government offices and many others with the peace of mind of knowing that their digital assets are safe.
Retrospect is Easy and Automatic

Auto-detects new, or previously off-line computers and prioritizes their backup

Saves time and drive space with incremental backups and file-level deduplication
Maximizes disk space by automatically grooming outdated files from the backup disk
Offers added protection from viruses and corruption with "Live Restores," which quickly returns a running computer to a previous state

Retrospect is Powerful and Flexible

Works flawlessly in a mixed Windows/Mac environment without adding cost
Supports multiple backup media types including disk, NAS, WebDAV cloud storage, tape drives, libraries, and flash
Performs versatile backups and restores with up to 16 simultaneous executable operations
Delivers perfect point-in-time restores every time, from individual files to entire volumes

Retrospect is Reliable and Secure


Protects backups and ensures secure data transmission with multiple levels of U.S. Government-certified encryption
Verifies that data is fully backed up and fully restorable
Maintains multiple, independent Media Sets for added reliability
Retrospect delivers proven restore reliability, with more than two decades of data protection expertise
Nytt i denne versjonen
Scalable Data Protection: Retrospect's protection suite now includes scalable data protection. As an industry first for
file-level backup, Retrospect is now certified to back up 1 billion files per backup set, 100 TB of data per backup set, and 50 million files per device.

Includes monitoring tools integration: Retrospect now integrates with the latest monitoring systems, including Nagios, Slack, and
IFTTT. System administrators can deploy custom scripts that populate their monitoring systems with a wide range of Retrospect events and statistics, including per-source backup
information, media requests, and script successes and failures

Script Hooks: Retrospect now includes script hooks. IT staff can integrate customized scripts
that are executed at specific points during their backup strategy lifecycle. Retrospect is now able to quiesce databases and other services before a backup starts and then relaunch those services after the backup completes successfully. Script hooks let system administrators integrate Retrospect more deeply into their environment.

Performance Improvements: Retrospect 12 for Windows and Retrospect 14 for Mac include significant improvements for backup and restore for computers that have more than 500,000 folders.

Network Connectivity: Retrospect 12 for Windows and Retrospect 14 for Mac include clients that are more resilient to network hiccups and outages.
Systemkrav
Retrospect 14 Application*

Supported Operating Systems:

Mac OS 10.3 Panther or later up to 10.12 Sierra
Mac OS X Server* 10.3 Panther or later up to Sierra server 10.12
*Retrospect Desktop doesn't run on Mac OS X Server.
Supported Hardware:

Intel processor
2 GB RAM
10-15 GB of temp hard disk space for each concurrent activity (backup, restore, etc.)
Adequate storage for backups
Recommended Configuration:

One or more multicore processors
At least 4 GB RAM
Retrospect 11 Client for Intel Macs

Mac OS X or Mac OS X Server* 10.6.8 or later, including Mavericks
Intel processor
RAM that meets Apple's guidelines for each OS
*Backing up server OS clients requires Retrospect Multi Server or other Server edition with available Server
Client Licenses.
Alle priser i NOK eks. mva med reservasjon for eventuelle produkt- og valutaforandringer samt feil. Mer prisinformasjon ring 63 01 47 30