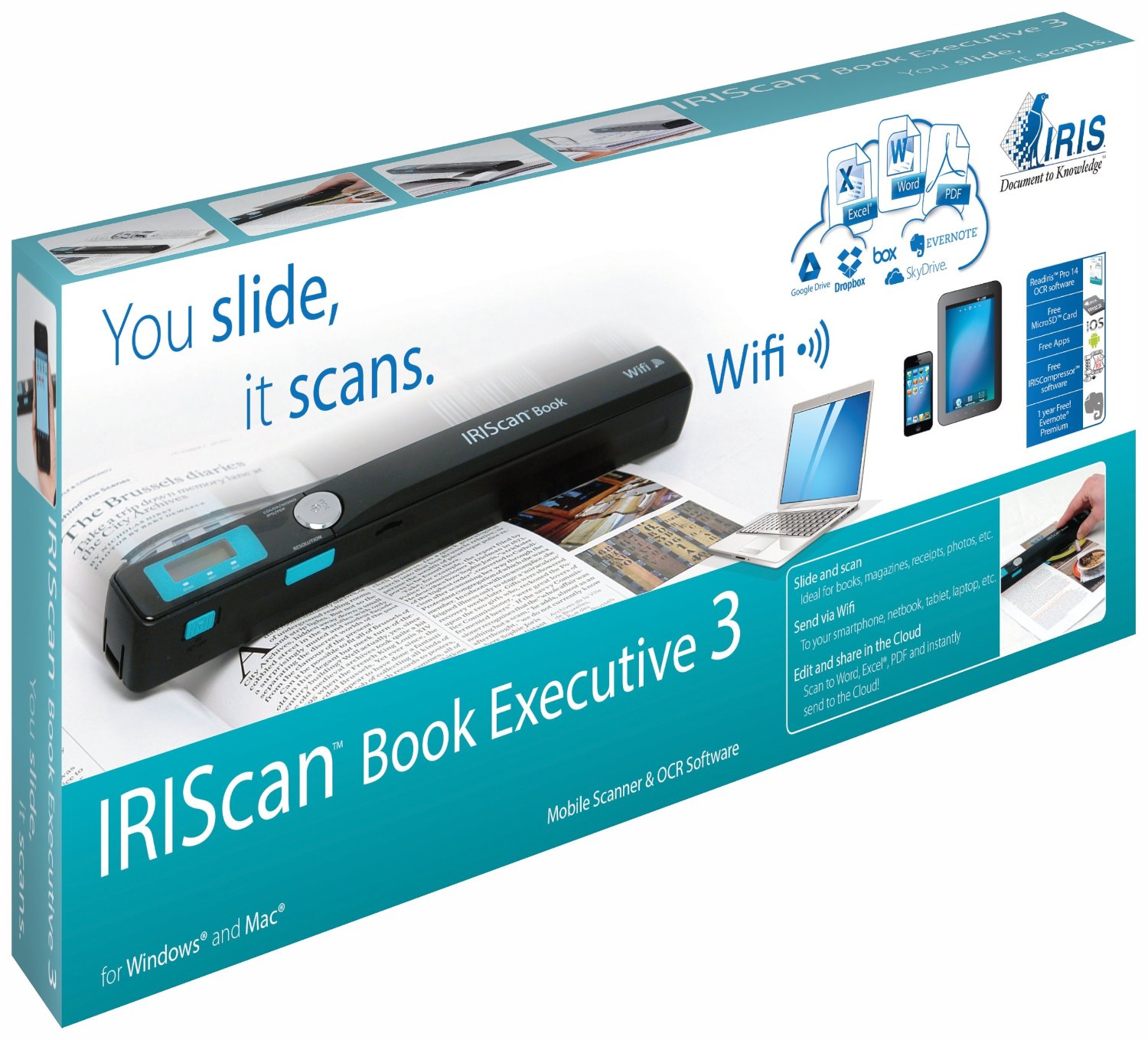 IRIS
IRISCan Book 3
IRIScan™ Book 3 is a portable scanner that allows you to scan books and magazines anytime, anywhere and without ripping pages off. Simply roll your way across the document.
Scan books, magazines, newspapers, letters,… without ripping pages off!

Just slide your scanner over the document you want to scan, and create a high resolution image instantly (up to 900 dpi). Thanks to the high quality optical sensor and the wheels under the scanner, scanning has never been so fast (3 seconds per page), no matter the surface you are scanning (books, magazines or, newspapers). IRIScan Book 3 is the perfect solution for scanning all types of documents at great speed, while always keeping high quality.

Use it anywhere you are, without computer!

IRIScan Book Executive 3 is an extremely compact scanner that fits easily in your laptop bag or in a drawer. Its four AAA batteries and the memory card will allow you to scan all your documents without being connected to a computer. Whether you're at home, at the office, in a customer meeting or sitting in your couch, your IRIScan Book Executive 3 will follow you everywhere!

Transfer documents using Wifi or USB to ANY device!

The brand new IRIScan Book Executive 3 includes Wi-Fi that allows you to transfer all your images instantly to your computer (Windows or Mac), smartphone or even tablet (iOS or Android). The free IRIScan Book App available on Apple's App Store and on the Google Play store (previously Android market) connects your iOS or Android device to your IRIScan Book Executive 3 quickly and easily. The scanner has its own wireless network to transfer the images, it doesn't require any configuration or an Internet connection.

Once back at your desk, you can also transfer your documents via USB by using the provided cable. You can download your scanned images or even scan other images directly to your computer through the USB cable.

Convert your documents into editable files (Word, Excel, ..)

IRIScan Book Executive 3 comes with a fully-functional OCR application (Readiris) that allows you to convert text zones from your scanned documents into fully editable Word, Excel or PDF documents. Your files will be converted and ready to be edited, archived, or even shared with the automatic export to a Cloud-based solution such as Dropbox, Evernote, Google Drive, etc.
Alle priser i NOK eks. mva med reservasjon for eventuelle produkt- og valutaforandringer samt feil. Mer prisinformasjon ring 63 01 47 30